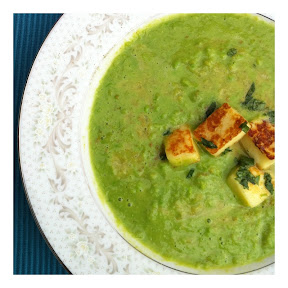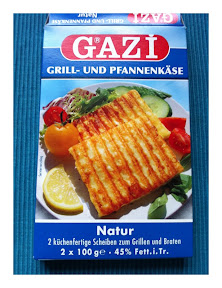 I didn't know until I had haloumi on a salad in Istanbul, that there was a cheese that could be grilled or fried without melting. I went in search of some for this soup. I didn't find haloumi but I found something similar. It came in natural, herbed, and chili flavors. I am so happy I could cry. It tastes so good. It is mild but salty.
One great thing about not working is that I now occasionally have time to look through my blog feed. The photo of this soup on 101 Cookbooks was so achingly beautiful that I decided to make it for dinner. I changed up the recipe to suit my family's taste and what I had available in my fridge. Sophie doesn't like anything too spicy, and Kenny doesn't like anything too watery, so I made a milder, thicker version.
1 tablespoon fresh ginger, well chopped
10 small cloves garlic, smashed and peeled
1/2 green pepper, stemmed, seeded, and chopped
1/4 teaspoon ground cumin, plus more to serve
3 tablespoons canola oil
2 bay leaves
1 small onion, chopped
4 1/2 cups vegetable broth
7 cups frozen peas, or more to taste
1 teaspoon sea salt, or to taste
a squeeze of fresh lemon juice
cilantro, finely chopped
pan-fried cheese, cut into tiny cubes
Use a food processor to puree the ginger, garlic, green pepper, cumin, and three tablespoons of water into a paste. Set aside.
Heat oil in a large saucepan over medium heat. When hot, add the bay leaves and saute for 30 seconds. Stir in the onion and cook for a few minutes, until it begins to take on a bit of color. Stir in the garlic-ginger paste, and cook for another minute. Carefully add the broth, stir well, and bring to a boil. Then add the peas. Simmer just until the peas are bright and cooked through, only a couple of minutes.
Remove from heat, remove the bay leaves, and add the salt. Puree in a blender in batches, using a towel to cover the blender to protect your hand from any hot overflow. If the soup is too thick you can add some broth. If it is too thin you can add some more peas. Add more salt if needed. Serve hot, topped with a bit of lemon juice (don't skip, it's worth the squeeze!), a pinch of cumin, cilantro, and pan fried cheese.
Sophia's comment: This soup is yum!
- Posted using BlogPress from my iPhone